The first Robotex competition took place in 2001. Although I did not take part then, I remember observing with interest the progress of Tartu University teams. Looking back 10 years now, it is fascinating to see how much changed since.
One of this changes is the perhaps wide spread of affordable computerized manufacturing. Laser cutters and CNC milling machines have existed for years now, but it seems that in just the last 10 years has their use become accessible to pretty much anyone who needs it. The more recent 3D printing can't go without mention – one can get a reasonable tabletop 3D printer at the price of a high-end laptop nowadays.
So for those of you who are new to this thing, here's a brief example of how things work in the marvellous world where one does not need to know anything about saws and hammers in order to create hard metal objects.
Modeling the part
First, we use a CAD system (SolidWorks, in our case), to create a model of the part. This requires some knowledge of the CAD system, but it is not rocket science, really.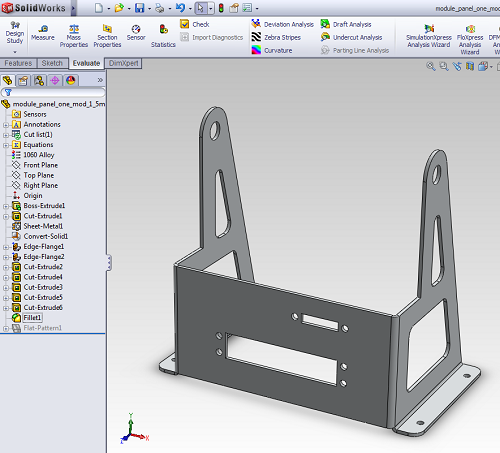 Ordering the part
Next, in order to order an actual part from this model, we need to create two files: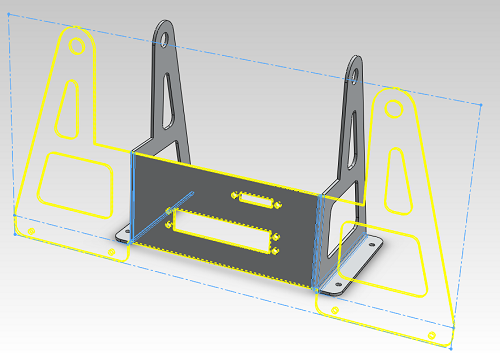 Note that depending on the manufacturer, additional files may be required in certain format as a specification, but in our case this was sufficient. You then send the specification to the manufacturer and wait. Most commercial manufacturers would typically produce parts in batches of at least 100 or so, so if you need just one, you would often have to come up with a personal arrangement.
The price range differs depending on the manufacturer (some have cheaper, less precise machines, some have better ones), chosen material (cutting thinner material requires less power) and personal arrangements. In particular, the total price of computerized manufacturing for the single part shown above, including material (1.5mm aluminium sheet), is less than €20, and can be significantly less, if you manage to get a good deal.